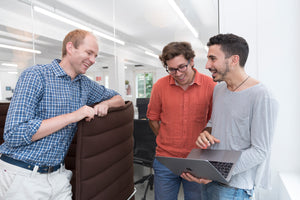 Power Hour - Growth hacking opportunities
Regular price
SFr. 400.00
SFr. 0.00
Unit price
per
Together with Luke you will:
Dive into your campaign data, study what worked in the past and where we see opportunities
Make recommendations how to structure online campaigns and online marketing mix (SEO, Facebook, Instagram, Google Ads inc. paid search, remarketing, YouTube and more)
We'll identify growth hacks and low hanging fruit opportunities to enable you make rapid improvements
Gain strategic insights to help you shape your roadmap
Perfect for
Customers who never worked with us and want to get a flavour how we work 
Traditional marketing professionals who want to review their work from the digital perspective
Business owners who want to get some guidance on their strategy or challenge their existing provider 
We stay on top on what's going on in digital marketing, across all channels. The aim of Power Hour is to provide this information in a condensed format to those who are not able to keep up with the changes themselves.  
With a Power Hour, Luke, will help you get things back on track. Power Hours are hands-on and we'll address any areas where you have concerns and identify things that you may not have known were broken.
Prior the Power Hour we'll ask you to define goals and give us access to analytics tools (if possible) in order to make most of the session. 
It's possible to do this session as a video conference or face-to-face in Zürich. 
For CHF400, you can benefit from 15+ years of Luke's experience and save yourself weeks or months of making mistakes because of a misguided strategy.
About Luke - if you have questions feel free to connect and ask on LinkedIn
---